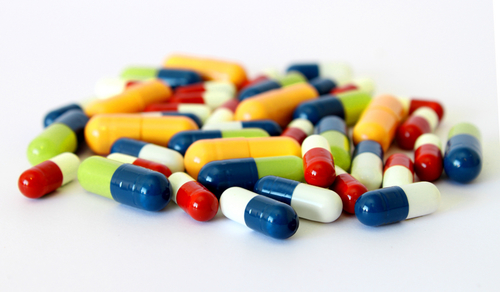 D-Chiro-Inositol + N-Acetyl-L-Cysteine + Combination Capsule
Price And Quantity
Product Specifications
Product Description
This is a premium nutrition for female fertility which is designed to improve overall female reproductive health and encourage hormonal balance, cycle regularity, and attainment of pregnancy.
This is a balanced dietary supplement to promote the healthy production of fertile cervical mucus – the bodily fluid central to fertility and conception. The ingredients D- Chiro-Inositol, N-Aectyl - L- Cysteine, Alpha Lipoic Acid, Vitamin C, Calcium Carbonate, & DHA have also been shown to support female arousal and sexual sensitivity and strengthen the uterine lining, both of which can increase chances for successful conception and improve overall female reproductive health.
Infertility can be caused by a huge number of factors: hormone imbalance, Polycystic Ovarian Syndrome, Endometriosis, Anovulatory Cycles, physical blockage, inadequate hormone production, short luteal phase, lack of lutenizing hormone, high levels or prolactin, and many others.
Poor nutrition often plays a major role, as does exposure to certain chemicals. Age plays less of a role before menopause. Many women turn to a low-fat, high fiber diet in an attempt to increase health and lose weight. Weight loss has been shown to increase fertility, but losing weight in this way is rarely effective for increasing fertility because it deprives the body of the necessary proteins and fats necessary for hormone production.
Many factors influence your chances of conception, including age, general health and stress levels, as well as sperm and egg quality. The more you are in balance in mind, body and spirit, the greater your chance of conception and the healthier your baby is likely to be. However, inadequate diet, intensive food production and processing and the demands of job, travel and family, can mean that our nutritional needs are not met adequately.
There are many other lifestyle factors that contribute as well:
Lack of sleep
Exposure to harmful chemicals
Lack of exercise (or too much exercise)
High stress levels
Certain medications or supplements
Indications:
This formula has been formulated to:
Helps balance the hormones that govern the monthly cycle and reproduction
Helps improve the quantity and quality of cervical mucus
Antioxidants to enhance fertility diet
Promotes the efficient elimination of environmental toxins that negatively impact reproductive health
Helps encourage hormonal balance, and increase libido and sexual function
Helps restore hormonal balance, supports reproductive wellness, and optimizes the chances of conceiving
Increases physical strength
Enhancement of pregnancy rates in female infertility due to ovulation disorders and polycystic ovary syndrome (PCOS)
Calcium:
Linked to hormone development
D-Chiro-Inositol:
Plays a key role in follicular development, improves oocyte (egg) quality and helps in the restoration of ovulation in women
N-Acetyl Cysteine:
Improves menstrual cyclicity
DHA:
Supports a healthier pregnancy and decreases odds of premature delivery
ALA:
Acts as an antioxidant which benefit insulin resistance and infertility
Vitamin C:
An important anti-oxidant associated with fertility. Also important for placental development, blood flow and organ development
So, the rational use of nutritional supplements, combined with a healthy diet, will contribute substantially to health promotion and work in balance and synergism on protection and integration of the physiological functions of the body.
About Composition:
N-Acetyl Cysteine:
Nutritional supplement N-Acetyl Cysteine, also known as NAC. NAC is both an antioxidant and amino acid (building blocks of protein). Specifically, NAC is a derivative of the amino acid L-cysteine, an essential precursor used by the body to produce glutathione. It is an essential precursor used by the body to produce glutathione, an antioxidant that protects against free radical damage and oxidative stress and is a critical factor in supporting a healthy immune system.
NAC has been shown to improve menstrual regularity and may help improve insulin resistance in women with PCOS who have high insulin levels. NAC also seems to have a favorable effect of lowering cholesterol, Triglycerides and testosterone
.
The main functions are:
Breaks down mucus in the body
Helpful for polycystic ovary syndrome in women
Increases ovulation rates for women suffering from PCOS
Anti-inflammatory
Raises cellular glutathione levels
Improves length of egg's telomeres, maintaining egg quality and health
Improves insulin resistance by reducing insulin levels and increasing insulin sensitivity
Improves menstrual cyclicity, ovulation and pregnancy
DHA:
DHA stands for Docosahexaenoic acid, which is an omega-3 fatty acid and found in conjunction with EPA (Eicosapentaenoic acid). DHA is beneficial for neurological health and is added to prenatal vitamins for the central nervous system and optical development of a fetus. While it's not always included in prenatal supplements, it is highly recommended that both pregnant and breastfeeding women take a DHA supplement. Docosahexaenoic acid (DHA) may help with fertility in women with PCOS. Androgen concentrations in young women with PCOS were significantly reduced after supplementation of long-chain omega-3 fats. DHA helps protect both partners' DNA from oxidative damage during preconception as well as to support normal fertility and healthy sperm production.
The main functions are:
Regulates reproductive hormones
Increases the blood flow to the uterus, which can help with uterine lining development
Reduces inflammation, which for fertility can be especially important in the pelvic area
Increases egg white cervical mucus, which is needed to help the sperm reach the egg
Normalizes menstrual cycle
Increases fertility rate
Alpha Lipoic Acid (ALA):
Lipoic acid is a very important antioxidant because it not only helps to protect the female reproductive organs, but it has also been shown to improve sperm quality and motility. Lipoic acid is must in every supplement regime as it regenerates all of the other antioxidants and is the only antioxidant that can regenerate glutathione. It also helps to build a strong and properly functioning immune system.
Alpha lipoic acid is useful in insulin resistant and diabetic conditions. Insulin resistance is one of the most common factors in fertility concerns. It affects the entire reproductive cycle, from egg development and quality, to the implantation and maintenance of a pregnancy. Fortunately, there are effective ways to reduce insulin resistance with diet, lifestyle changes and supplement therapies, allowing conception to happen with greater ease and even better, significantly improved underlying health.
The main functions are:
Regenerates all other antioxidants
Useful in regeneration of Glutathione
Protects the DNA of the awaiting sperm and eggs prior to fertilization
Increases peripheral insulin sensitivity
Acts as an antioxidant
Inositol:
D- Chiro-Inositol is an insulin-sensitizing supplement that is useful in polycystic ovarian syndrome and other insulin resistant fertility concerns. Inositol has shown favorable results in improving nearly all aspects of PCOS, including insulin sensitivity, reproduction (restores ovulation and improves oocyte quality), hormonal imbalance (improves androgens) and metabolic issues (inflammation, dyslipidemia, hypertension, and weight loss). Insulin resistance and/or compensatory hyperinsulinemia have a central role in the pathogenesis of PCOS. Inositol-phosphoglycan (IPG) is a mediator of insulin action. Inositol also serves as a precursor for the synthesis of phosphoinositides, which constitute the phosphatidylinositol signal transduction system involved in the regulation of various cellular functions including cell proliferation. Inositol, along with estradiol in human follicular fluid, also plays a role in follicular maturity and provides a marker of good quality oocytes. Research also shows that inositol is a simple and safe treatment that is capable of improving reproductive axis functioning in PCOS patients, reducing the hyperinsulinemic state that affects LH secretion and restoring spontaneous ovarian activity and consequently clinical pregnancy rate.
The main functions are:
Inositol improves ovarian activity, insulin sensitivity and fertility in patients with PCOS
Inositol also decreases testosterone and is a marker of good egg quality
Vitamin C:
Vitamin C (Also known as Ascorbic acid) enhances the size, number and motility of white blood cells and also helps with the expulsion of toxic chemicals from the body. A moderate amount of supplemental vitamin C improves hormone levels and increases fertility. There is a clear and definitive link between Vitamin C deficiency and female infertility. Vitamin C aids all stages of preconception, pregnancy and childbirth. Vitamin C improves hormone levels and increases fertility in women with luteal phase defect (LPD). Research shows that vitamin C also increases progesterone in the body, which helps regulate menstrual cycles, thicken the lining of the uterus and improves ovarian function.
The main functions are:
Crucial in both male and female fertility
Sustains an equilibrium of the female endocrine system
Especially useful for women with low progesterone levels
Reinforces right balance between estrogen and progesterone levels
Vitamin C doubles the chance of getting pregnant
Calcium (As Calcium Carbonate):
Calcium (As Calcium Carbonate):Calcium is not only as a mineral which is famous for strong bones, healthy teeth but also calcium is vital ingredient in the process of triggering growth in embryos. When the sperm arrived in the alkaline environment of the reproductive tract, it triggers the tails whip-like motion. Minerals (calcium being one of the most important) help to create an alkaline environment in the reproductive tract, the nutrient that sperm soaks up which creates the thrusting towards the egg, is calcium.
Bone health is just one of the reasons that calcium supplementation is important for pregnant women. Research indicates that calcium plays a role in preventing preeclampsia, a serious condition of pregnancy which causes high blood pressure and fluid retention. Ensuring optimal intake of calcium before and during pregnancy can go a long way in helping to prevent pregnancy complications, like preeclampsia.
The main functions are:
Calcium is necessary for conception, a healthy reproductive system, healthy baby, and birth
Important during the preconception phase to help boost fertility
Helps the reproductive system to function more efficiently
Useful in normal functioning of nerves, cells, muscle, and bone
The purpose of this combination of D- Chiro-Inositol, N-Aectyl- L-Cysteine, Alpha Lipoic Acid, Vitamin C, Calcium Carbonate, & DHA have been found supportive for reproductive health issues. To create an environment for healthy eggs, we first need to consider natural nutrients for hormonal balance, proper endocrine function and improved circulation to the reproductive organs. Stress plays a role in egg health as well, therefore if stress is present; these nutrients support healthy stress response and calm the nerves. The main focus when choosing supplements for preconception is to nourish the body, detoxify for hormonal balance/optimal health, support uterine tone, build the blood, and support a healthy stress response.
Side Effects:
The product is possible safe for most adults. There is no disadvantage associated with the product if taken under the recommended usage.
Special Precautions & Warnings:
For Pregnancy and Breast-Feeding:
Pregnant and lactating mothers should not take any single supplement in higher-than-normal doses unless recommended by a health-care provider for a special condition. The combination should only be used in pregnancy and lactation if benefits outweigh the risks. Stay on the safe side and avoid use.
Storage:
Store in a cool, dry & dark place. Protected from direct sunlight.
Trade Information
Cash in Advance (CID), Cash Advance (CA)

300 Per Month
Sample costs shipping and taxes has to be paid by the buyer

Africa, Middle East, Western Europe, Eastern Europe, South America, North America, Central America, Australia, Asia