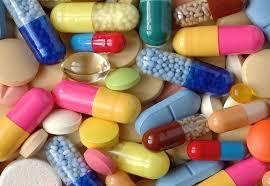 Pancreatin Capsule
Price And Quantity
Product Specifications
Product Description
This product contains a mixture of digestive enzymes including lipases, proteases, and amylases. It is used to treat people who cannot digest food normally because their pancreas does not make enough enzymes due to cystic fibrosis, swelling of the pancreas that lasts a long time (chronic pancreatitis), removal of some or the entire pancreas (pancreatectomy), or other conditions. This may help your body use fats, proteins, and sugars from food.
Indications:
Pancreatic exocrine deficiency
About Composition:
Pancreas makes proteins called enzymes produced by the exocrine cells of the pancreas. It is composed of amylase (hydrolyze starches into oligosaccharides and the disaccharide maltose), lipase (hydrolyze triglycerides into fatty acids and glycerols) and protease (hydrolyze proteins into oligopeptides), that help break down food into nutrients. Patients with exocrine pancreatic insufficiency (EPI) or who have chronic pancreatitis (swelling of the pancreas that lasts a long time), pancreatectomy (surgical removal of all or part of the pancreas), and other conditions are not able to produce and/or secrete enough pancreatic enzymes to digest important nutrients such as fat, carbohydrates and protein.
This product is used to treat people who cannot digest food normally because their pancreas does not make enough enzymes. It replaces the enzymes your pancreas isn't producing, helping you digest nutrients.
Mechanism of Action:
This product contains porcine pancreatin formulated as enteric-coated (acid-resistant) minimicrospheres within gelatin capsules.
The capsules dissolve rapidly in the stomach releasing plenty of minimicrospheres, a multi-dose principle which is designed to achieve good mixing with the chyme, emptying from the stomach together with the chyme and after release, good distribution of enzymes within the chyme. When the minimicrospheres reach the small intestine the coating rapidly disintegrates (at pH> 5.5) to release enzymes with lipolytic, amylolytic and proteolytic activity to ensure the digestion of fats, starches and proteins. The products of pancreatic digestion are then either absorbed directly, or following further hydrolysis by intestinal enzymes.
Pharmacokinetics:
Pharmacokinetic data is not available as the enzymes act locally in the gastrointestinal tract. After exerting their action, the enzymes are digested themselves in the intestine.
Side Effects:
Tell your doctor right away if you have any unusual or severe
Stomach (abdominal) pain, bloating, trouble passing stool, nausea, vomiting, diarrhea, worsening of painful, swollen joints (gout), or allergic reactions including trouble breathing, skin rashes, or swollen lips.
Precautions:
Before Starting, tells your doctor if you:
● are allergic to any of its ingredients
● have a history of intestinal blockage of your intestines, or scarring or thickening of your bowel wall (fibrosing colonopathy)
● have gout, kidney disease, or high blood uric acid (hyperuricemia)
● have trouble swallowing capsules
● have any other medical condition
● are pregnant or plan to become pregnant or breast-feeding
● Tell your doctor about all your medical conditions and about all the medicines you take, including prescription and nonprescription medicines, vitamins, and herbal supplements.
● Overdosage: Extremely high doses of pancreatin have been reported to be associated with hyperuricosuria and hyperuricaemia.
Supportive measures including stopping enzyme therapy and ensuring adequate rehydration are recommended.
● Take this product as directed by your doctor. Always take with a meal or snack and enough liquid to swallow completely. It should not be crushed or chewed.
Contraindication:
Hypersensitivity to the active substance or to any of the excipients.
Storage:
Do not store above 30˚C and keep in the original container. Keep container tightly closed. The enzymes in this product are natural products and their ability to digest food decreases over time. If the container is left in warm conditions, the digestive activity decreases faster.
Trade Information
Cash in Advance (CID), Cash Advance (CA)

300 Per Month
Sample costs shipping and taxes has to be paid by the buyer

Africa, Middle East, Western Europe, Eastern Europe, South America, North America, Central America, Australia, Asia